Tony LeCompte Wins HOA in Second Annual Vintagers Shoot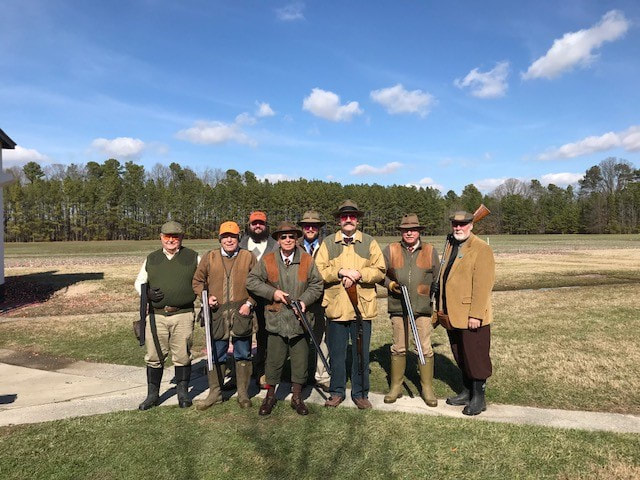 In photo: D. Montgomery, P. Bergere, J. Devens, J. Bernardski, T. LeCompte, T. Hughes, J. Serie, J. Robertson
Easton, MD- On Sunday February 18, 2018 Talbot Rod & Gun Club held their second annual 'vintage' style shoot. The "Vintager" is a fun opportunity to break out those old shotguns that we wouldn't shoot necessarily on a regular basis and have a little fun with it. So we make guys wear ties and maybe a sport coat; not an uncommon sight at the skeet ranges of the 40s and 50s and certainly before, break out those old side-by-side shotguns with challenging double triggers, or barrels choked in a manner more accustomed to the pheasant fields of England more so than the modern sporting courses. Really just an excuse to break out the tweed and have fun...and eat some food too!
For this year's competition Skeet Chair Joe Devens out together a 50 bird event consisting of 25 skeet targets shot in a modifies Olympic Skeet sequence and 25 targets on our FITASC/5-Stand/Compak sporting course. Prizes were awarded for top skeet, top sporting and high overall shooter. Shooters were then treated to a delicious lunch of bangers and mash prepared by Frank Divilio. Members were also treated to a very special show and tell by Mike Strannahan who graciously educated us on his very unique (and very vintage)19th century  4-bore blackpowder shotgun from the British Isles.
Congratulations to our top shooters, David Montgomery-Skeet and Tony LeCompte-Sporting and HOA!
Special thanks to Mike Stranahan and Frank Divilio for helping keep scores and Paul Bergere for helping run the shoot and keeping his hands out of the prize money. And another special thanks to Frank for putting together a delicious meal!